News
Lanzarote chefs make a stand for product, albeit with a state-of-the-art perspective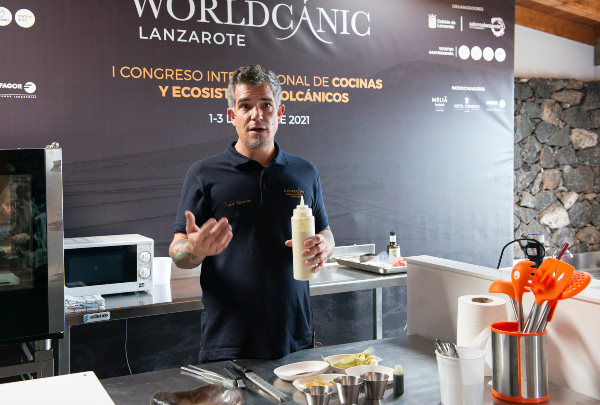 Surrounding by 100% Lanzarote produce at the Vegacosta Eco-estate plantations, a representative group of the island's chefs gave a practical culinary demonstration of the excellent quality of vegetables and seafood from the sea around Lanzarote.

João Faraco (Coentro), Jonay Perdomo (El Risco) and Gonzalo Calzadilla (Isla de Lobos) took the state on the last day of the Worldcanic congress to demonstrate that Lanzarote's gastronomy is based on the island's genuine produce, with no rejection of new techniques or influences from other cultures.

This was the case of Brazilian João Faraco, whose recipes, after eleven years on the Canaries' northernmost island, bring about "a combination of Spanish cuisine, along with Lanzarote produce and my Brazilian roots". He demonstrated this by merging local products with South American methodology in, for example, the barbecue-roasted leek with sea anemones. A recipe with multiple references to the Lanzarote plantations such as the red La Palma pepper or "pitaya", and the island's most typical fish, such as the snoek, a local tuna variety.

Fish were also a feature of the talk by Jonay Perdomo, chef at El Risco (Famara), who said that "with Europe's largest marine reserve outside our house, fish cannot fail to be a part of our menu". Perdomo works with produce from the sea around the volcano island, "with due respect for tradition, so that we don't lose our culture or our roots". That is why, the chef continued, he works with typical island techniques such as salting processes or marinades. Like the recipe he came up with this morning: horse mackerel marinade with pumpkin. Lanzarote pumpkin - "sweeter"- in keeping with the elevation of local produce, such as the salt and vinegar used in the marinade.

The gastronomic tour around the island was rounded off by Gonzalo Calzadilla, chef at Isla de Lobos, who presented petits fours made with one of the rock stars of Lanzarote's agriculture: onion. A sweet interlude with this Amaryllidacea and its unique characteristics on the island, because "the salinity brought by the winds around the island enriches the onion and it takes in more sugars". And the sugars, "although they prevent the onion from growing larger, give it more flavour". Calzadilla used the sweetness of the Lanzarote onion to present a gumdrop, a cloud, a "polvorón" powder cake, a sponge cake, a liqueur, angel hair and an ice cream. A turnaround for a humble traditional product used in the island's cuisine, to finish off this first round of Worldcanic Lanzarote with all due honours.

Magazine