News
La Palma businessmen: "Right now we have to hang in there, but the volcano will bring wealth in the medium term"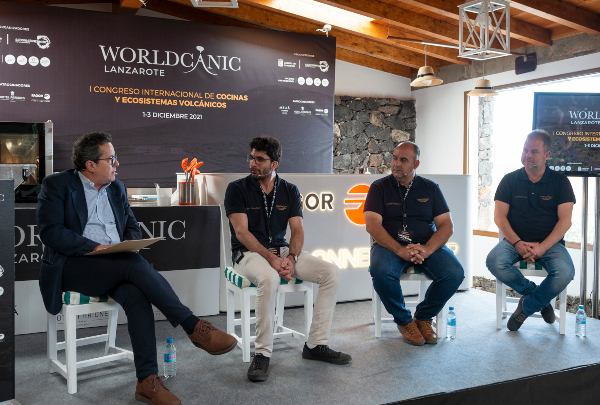 Businessmen on La Palma island Andrés Fernando Hernández (Salinas de Fuencaliente, Fuencaliente) and José Alberto Díaz (El Sitio restaurant, Tazacorte) are optimistic concerning the situation of the island in the medium term.

At a congress on volcanoes, and in the Canary Islands too, there had to be a talk about La Palma. On the current situation of the volcano, on its circumstantial effects, and on the future of the "isla bonita". Because "if we hang on and learn from the experiences of other volcanic territories, the future will bring wealth and opportunities to the island", pointed out La Palma businessmen Andrés Fernando Hernández (Salinas de Fuencaliente, Fuencaliente) and José Alberto Díaz (El Sitio restaurant, Tazacorte).

Along with volcano enthusiast Mike Sánchez, Hernández and Díaz reported to Worldcanic congress-goers on the situation of La Palma. "It seems the volcano is on the wane. It's now affected 10% of the island, in the southwest, but we have a lot of supply problems. If it was already difficult to get in supplies without the volcano, it's even harder now", said the chef, who also admitted that in areas unaffected by the volcano the hospitality sector is doing better than ever. "Outside the area affected, life almost goes on as normal. In some towns you don't even realise there's any volcano there". Hernández added: "It's 10%, but it has affected some very prosperous and productive areas".

That was the general snapshot. They moved on to specific cases. The producer admitted his business had suffered: "We got a lot of ash, and we lost production. The salt pans can't be used; getting them back will be difficult, but we have guts, and we'll do it". "I'm pessimistic, but only in the short run, because we know this will bring wealth in the medium term", said Hernández, who acknowledged the island's historical relations with the volcano: "We knew we had to be on guard, because this was coming sooner rather than later, but it caught us on the hop".

Worldcanic has been issuing warnings on prevention these days, and expert Mike Sánchez, who runs the "Vivir entre Volcanes" website [Living among Volcanoes], homed in on this, hoping that "what happened in La Palma will help to educate the population".

The chef at El Sitio in Tazacorte accepted this. "Nobody ever explained to me what could happen with the volcano", he began, and added that "now is the time to educate ourselves and learn to live with it, and work to use it to our advantage. We have to copy the good practices of other territories that have suffered the effects of volcanoes to implement this in La Palma", he said, telling the congress that he had gone from almost 100% occupancy to barely 30%. "Tourism has gone down, and the local population has stopped going out. Now we're waiting for the volcano to finish up, when we expect a boom in tourism, so we have to set to work to make sure the island's ready for that".

With no business prism, Díaz admitted the volcano has changed him: "We're not seeing it as a show any more. We look at it in fear. At first I sat at home watching it. Now I don't want to watch it any more. I avoid it".

Amid some uncertainty, both businessmen urged the general public to visit the island, and expressed their gratitude for "solid commitment to the produce of La Palma. The positive aspects of all this are the solidarity of people and appreciation of local produce", they said.

Magazine