News
Scientists and chefs point to the huge potential of volcanic soil on the first day of Worldcanic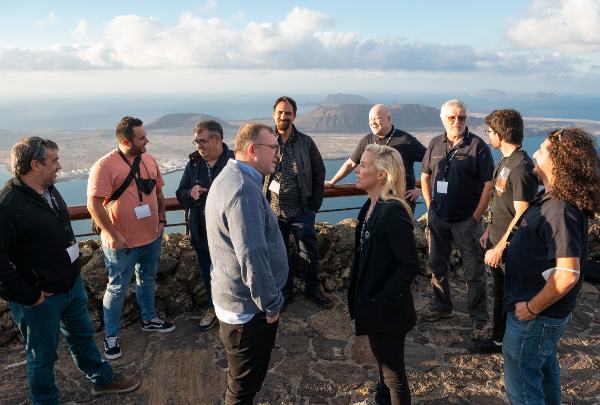 The tour taken around Jameos del Agua by the Worldcanic contingent gave them some context. Not for nothing did César Manrique transform the collapsed roof of a volcanic tube into a unique space reaching into the earth; an ideal scenario for the first day of talks, building a framework for a congress "which must help us to live a better life among volcanoes. Because they created life and give us fertile land. We just have to pay close attention when they erupt, to mitigate their effects". These were the words of the first speaker at Worldcanic, echoed subsequently by many others.

Before Joan Martí, the first speaker, took the floor, the Head of Culture in Lanzarote's "Cabildo" government, Alberto Aguiar, and the head of Vocento's gastronomy division, Benjamín Lana, opened the congress, and both were happy to "see Lanzarote as a space for an encounter between the world's volcanic territories". Lana praised the people of these territories, "examples of living in communion with the environment, examples of resistance and models for global sustainability, as is Lanzarote", echoing Aguiar's inauguration speech.

The Cabildo's Head of Culture was also pleased that Worldcanic was being held in Lanzarote, as an "example that life can return after a huge natural disaster". With a message of solidarity for La Palma, "an island for which this congress must prove useful", Aguiar ended his speech by encouraging those present to enjoy the island, and to bear in mind that "volcanic systems are not just fire and lava, but also have great potential for the continuation of life".

"Let us work"

Spain's CSIC's Head of Geosciences in Barcelona was well aware of this, and began with a declaration: "We spend a lot of money on exploring space, and very little on what we have here below our feet". Pointing out the importance of volcanoes as life-generators -"Without volcanoes, there would be no atmosphere and no life. Populations always emerge in proximity to volcanoes. There must be a reason for that"-, Joan Martí emphasised the importance of letting professional people do their jobs: "Volcanoes always issue a warning before they erupt. It may come three days or three years beforehand, but they always give a warning, and so it's important to pay close attention to keep ahead of events to mitigate the impact".

Impacts on people's lives, and also on the economy in general, because, for example, ash, he pointed out, "prevents airplane turbines from working properly, and airborne activity in general." Impacts which could be mitigated with information and prevention and listening to them, because "we can live with volcanoes if we listen to them", the Catalan geologist went on.

This message was confirmed, along with a message concerning education, by French vulcanologist Frédéric Lécuyer. The leading expert on the Cantal volcano, Europe's largest, had nevertheless travelled to Costa Rica, another volcanic nation, to demonstrate how the task of explaining and communicating what a volcano is and how it functions is a key component. There, he said, they used psychology to help the children, "and later it was the children who were calming down their parents after the eruption". Children are also a segment of the population forming part of the work of the president of the NGO "Volcanes sin Fronteras" Costa Roca, Gino González.

"We work with the youngest to change their perception of volcanoes". They do this with activities and guided tours of volcanoes, and it looks as if they are succeeding. He showed two drawings to prove his point. "We ask them to draw a volcano before the activity, and draw it again afterwards. The drawings are different. The second drawings are more human, less intimidating. They've understood that volcanoes are part of us, and that we can live with them".

Because for Gonzalez, Martí and Lécuyer, the idea is to focus on the importance of sharing knowledge of volcanoes and generating prevention, thereby reducing the vulnerability of the population and improving their standard of living.

"Land is more fertile close to volcanoes"

The first day of Worldcanic also featuring showcooking by three chefs working in volcanic environments. Viviana Varese, chef at W Villadorata (Noto, Sicily) demonstrated the special characteristics of local produce on the Italian island as a result of the Etna volcano. "There are almond trees, lemon trees, orange trees, vines ... three quarters of the produce grows close to Etna because that's where the most fertile soil is", she told the congress.

This was confirmed by Cantabrian Chele González, who runs a restaurant (Gallery by Chele) in the Philippines, one of the world's most volcanic countries. "The Aetas – Philippines aborigines - are well aware of what it's like to live alongside volcanoes, and they even admitted a change to their culture after the Pinatubo eruption in the 90s. But they're not sad about this. They know that a volcano is their best support, because it makes the land more fertile".

The same theme was addressed by Liko Hoe, chef at Waiahole Poi (Kaneohe, Hawaii), who dwelt on the resilience of one plant in particular: "kalo", also known as "taro" in Hawaii. Although the leaves of this plant are also used in the Pacific islands, as Chele said, Hawaiians make even more extensive use of the plant, especially the root, which they use to make "poi", one of the population's basic volcanic foodstuffs, and so "it comes as no surprise that the traditional method for cooking poi is in an "imu" oven (underground) with which "we recreate a volcano".

Lunch and dinner

After the morning session, at the same location, Jameos del Agua, João Faraco (Coentro, Puerto Calero), Santi Benéitez (SeBE, Costa Teguise), Rubén Darío Rivera (Citurna, Playa Blanca) and Sergio Morales (Niño Salvaje, Arrecife), four chefs with restaurants on the island, provided the first meal of the congress "for people to understand what Lanzarote is and what it tastes of", as they put it. Judging by the happy faces of the diners at the end of it all, they succeeded.

The first day of Worldcanic was rounded off with dinner in the Kaori restaurant in Lanzarote's iconic Fariones hotel, with a gastronomic-volcanic connection between Lanzarote, La Garrotxa, Oregon and Sicily. It was cooked by Ignacio Hernández (Kaori, Lanzarote), Fina Puigdevall and Martina Puigvert (Les Cols**, Olot, Girona), Viviana Varese (W Villadorata Country Restaurant, Noto, Sicily, Italy) and Ryan Roadhouse (Nogoduro, Portland, Oregon, USA).

Magazine