News
"Papa" potatoes unite volcanic territories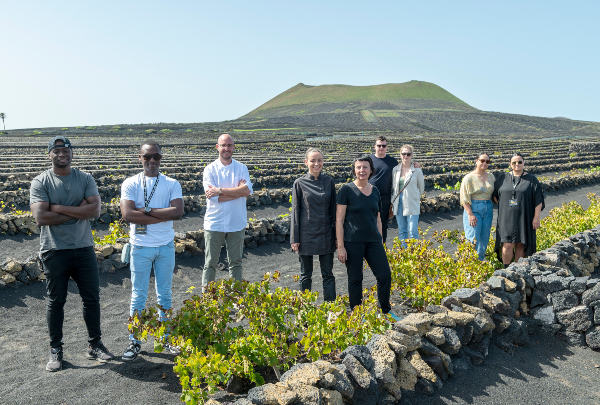 Catalan chef Fina Puigdevall from Les Cols** (Olot, Girona) presents the recipe - stewed and "arrugada" potatoes - she has given to Lanzarote to put it on restaurant menus on the island's tourist centres' network.

The best example of union and sharing between volcanic territories sought by Worldcanic is the "papas" recipe specially made for the congress by Fina Puigdevall, presented on Thursday. This is "Volcanic territories. Stewed La Garrotxa potatoes and Lanzarote's "arrugada" potatoes, garlic flower and bayleaf oil", in which the Catalan chef used produce from two volcanic territories, from her own La Garrotxa in Catalonia, and from Lanzarote, the venue of the congress and now the world capital of all volcanic territories. And so on Thursday, on the second day of the second Worldcanic, Lanzarote has been gastronomically twinned with Catalonia, and also with Ecuador and New Zealand. Distances are shortened by sharing origins and cookery formats.

Fina Puigdevall was the star attraction at the congress. She was with her daughter and head chef at Les Cols** (Olot, Girona), Martina Puigvert, to explain the new direction for their plantation and the restaurant: the latter has now become "biological, because we've taken on three ladies: a biologist, a specialist in seed retrieval, and a geographer". She explained what Les Cols is, before receiving the 1st Worldcanic Award from the head of the Lanzarote Art, Culture and Tourism Centres, Benjamín Perdomo, and the head of Vocento's Gastronomy division, Benjamín Lana. "We created the award and there was no doubt about who deserved it, because Fina made a stand for territory when no one else did. So this award is by way of gratitude for your past and present efforts, and for the future efforts that are guaranteed by your daughters. Thank you for seeing what no one else saw", said Lana.

Moved, the Catalan chef took the award - a piece by local artist Paco Curbelo - and went on to present the potato recipe she made and has given to Lanzarote to put it on the restaurant menus on the island's tourist centres' network. "A luxury provided by Fina, and a luxury we can continue to grow with all this learning and contacts", said Perdomo, who predicted that "a path has opened up to make us the first public enterprise with a Michelin star. Puigdevall, who already has two, can guide them for sure.

Matured papas by Ecuador chef Juan Sebastián Pérez

From papas to papas, and from La Garrotxa and Lanzarote to Ecuador, where Juan Sebastián Pérez (Quitu, Quito, Ecuador) showed how he cooks up all the ecosystems in his country, many of which were created by volcanoes. "I'm surrounded by volcanoes where I live. Quito is the world's only capital city with two volcanoes within its city limits", said the South American chef, referring to a recipe from the valley around the Cayambe volcano, and producing a starter of tushpa papa potatoes matured for 12 days (papa fritter), 60 days ("arrugada" papas) and 120 days ("llapingacho", our potato tortilla). The last-mentioned, he explained, "brings us closer to the earth. It means eating food with mineral origins".

Pérez, who is, like Puigdevall, also a staunch defender of identity and sustainability as guiding principles of gastronomy, cooked up another volcanic recipe originating from Cotopaxi, the world's highest active volcano. This was a cocoa mousse from the Equatorial wetlands melted in Güiti mineral water from the volcano, the only product in Ecuador with a denomination of origin.

The importance of education in vulcanology

Before moving on to Yaiza for lunch, Worldcanic congress-goers were given a better insight into the winery used for the talks, Los Bermejos, with a wine-tasting session by the house enologist, Daniel Martín, amid details of volcano information and news by geologist and associate of the Volcano School Foundation, Sebastián Vásquez. Like his colleague Anne Fornier the previous day, the Colombian-Catalan insisted on "the need for better management of volcanic hazards by educating children in knowledge of their territory".

Naga's R+D engineer Stephanie Barde also touched on 100% vulcanological concepts, claiming that "although on principle water and volcanoes would seem to be diametrically opposed, they have one curious relationship whereby volcanoes allow fresh water to accumulate in areas where this resource may be in short supply". More good points and knowledge in relation to volcanoes.

Lunch in Yaiza and dinner at Los Fariones

The day's eats were at Lanzarote's traditional Bodega Santiago in the town of Yaiza, and at Worldcanic sponsor Los Fariones hotel's Kaori restaurant in Puerto del Carmen, which featured an eight-hand effort by Icelander Gisli Matthias (Slippurinn, Vestmannaeyjar, Iceland), Indonesian Ketut Sri Gayatri Tata (Pengalaman Rasa, Bali, Indonesia), plus Spaniards Gonzalo Calzadilla (Isla de Lobos, Playa Blanca, Lanzarote) and Alberto Nieto, the local chef.
Magazine